NEWS
MAY 2015:
NEW RARE FRUIT TREES AVAILABLE
A unique opportunity for serious rare fruit & nut, as well as bamboo collectors to support Govardhan Gardens by acquiring very rare species or trading collection species: Rare Fruit Tree Listing .
NEWS 2014
BAMBOO CONSTRUCTION WORKSHOP
MARCH 8, 2014
The workshop was quickly booked out and the participants
were a very interesting group of enthusiastic and happy bamboo aficionados.
Naturally, the day was all about bamboo....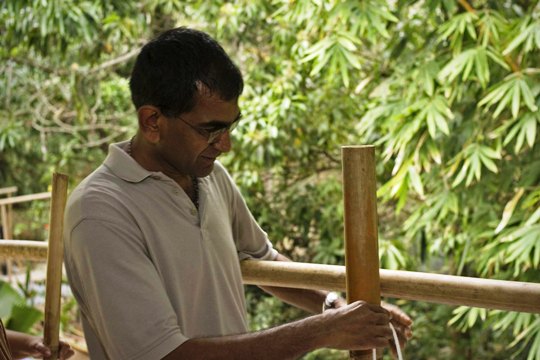 .....learning lashing techniques and knots....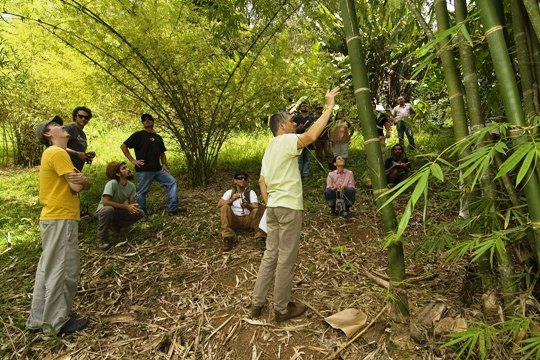 ....to learning about proper harvesting techniques and suitable bamboo species...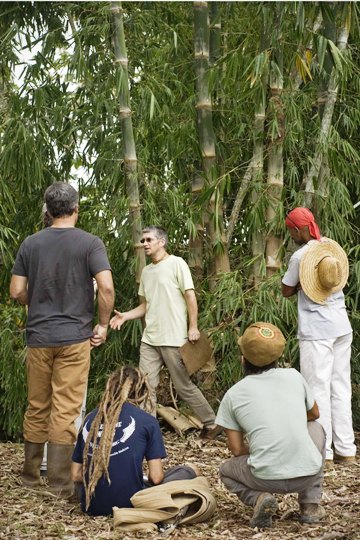 .....lots of good questions and a high level of attention span...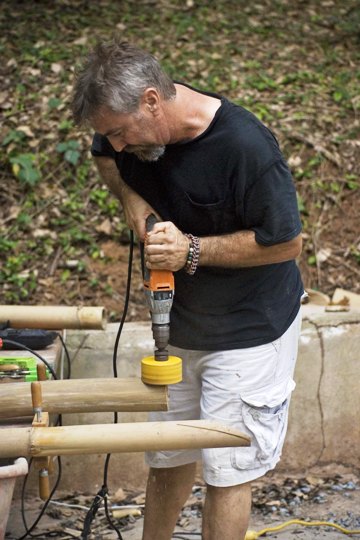 ....while our builder, Imre, was starting to set up the
foundation of a new bamboo carport.....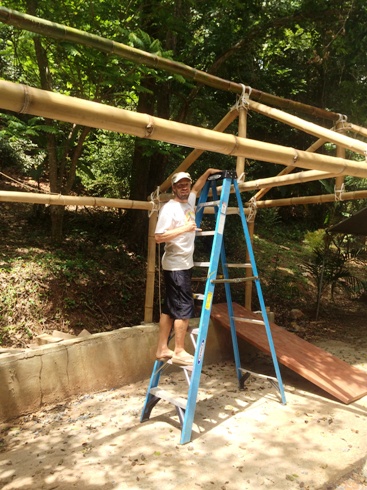 .....that I finished with the help of a timely visitor from
St. Thomas, Adam, the day after the workshop......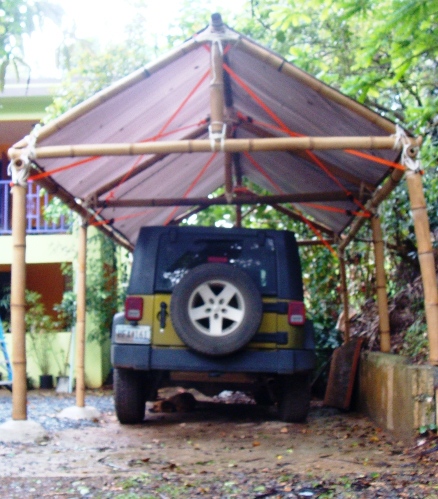 ....a simple but sturdy and spacious carport.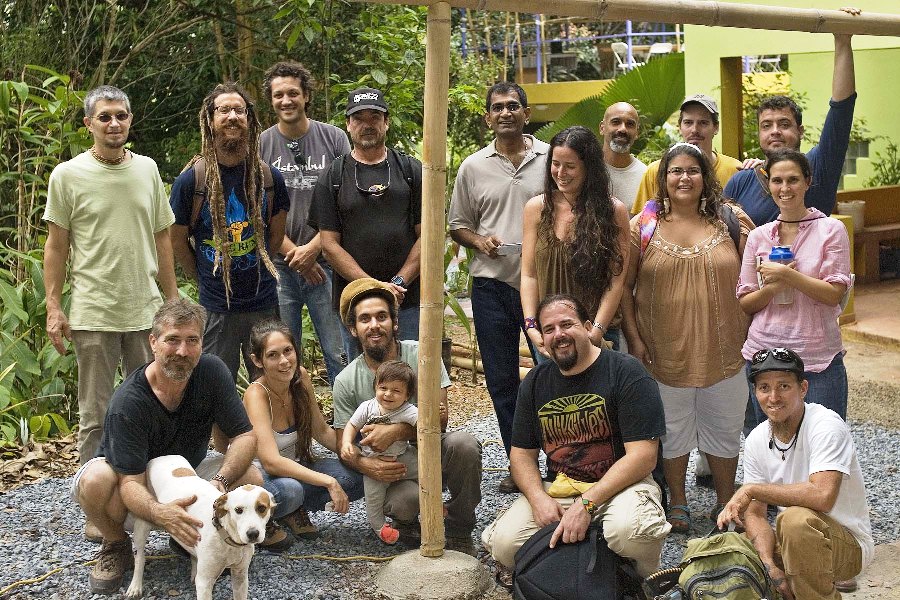 All in all, a very conscious and lively group that contributed to yet another happy and productive
day at Govardhan Gardens. Our hope is that bamboo culture will continue to grow
significantly in Puerto Rico and one day become a viable option of ecological construction.
VOLUNTEERS AT WORK (April 18, 24,25 - 2011)
Every year, I am working on several new projects at my farm. Although I rarely take in long-term volunteers anymore, a lot of work can get done in a short time. One of this yearís projects was the clearing of a weeded area in order to establish several specimen of Guadua angustifolia, a structural bamboo widely grown in South and Central America.
My support this time consisted of John Grady who spends much of his time doing volunteer work with various meaningful projects around the island, Daniel who had the best vegetarian restaurant on the west coast and Guillo, a gifted singer and painter from Jayuya, who grew up with a farming background. The first phase of our work went smooth and everyone was happy at the end.
But there were still a few days of hard work ahead, and just a few days later, Mike Poland offered to come over from San Juan and help out some more. He and Gretchen had already been helping months ago with building a milking station for my goats. Anyone who knows Mike, knows him as the ideal company: he only wants to help, never be a burden, and even brings his own food and tools whenever he volunteers for projects. And just when I thought it could hardly get any better, two more volunteers offered their help: Jorge Bencosme, a knowledgeable palm enthusiast who has a deep appreciation for nature and is one of the more ecologically conscious young people I know here, and finally Christian, an Austrian student, who visited for the first time. Although he came all the way up from Mayaguez on his bike, he didnít lose any time and worked hard all afternoon. Everyoneís spirit was contageously positive and I even had to remind everyone several times that we had already done our quota and that it was time to stop, but everyone wanted to continue to work. Itís really hard to find a better group of volunteers.
By the time day #2 was over, all the rough work was done, and Mike and me were able to finish the remaining finetuning the next day. I was so inspired when I saw the results that I staked out the areas for the future Guadua plants right away. The Guaduas, which I will plant within a few weeks will make a wall that will serve as a windbreak, give some shade and provide culms for some construction projects around the farm. Just when we were almost completely finished, a gentle rain came down, as if reconfirming that the land is ready now to plant the bamboo.
Daniel (left) and John (Right) pulling vines
Guillo, patiently cutting vines close to the ground
Daniel (left) and John (right) at the end of a hard day's work
Me - climbing the old mango tree that we just liberated from vines
Mike (left) and Jorge (right) still relaxed and joking despite having worked hard for hours
Mike (left), Christian (center) and Jorge (right) at the end of the day