GOVARDHAN GARDENS


TROPICAL FRUIT TREE,
SEED & BAMBOO NURSERY
UPDATE 06/09/2022:



Since Hurricane Maria destroyed much of my farm as well as the fruit tree nursery,

the fruit tree nursery will remain closed at least until the end of 2022. There will also be no seed shipments or tours possible until that time. The bamboo nursery, however, is open again, and orders can already be processed.



Govardhan Gardens,
located close by Mayaguez (Puerto Rico)
is an eco project and a high quality tropical
rare fruit tree, seed & bamboo nursery.

Its goal is to inspire a natural life style,
care for the earth and environment,
as well as to encourage independent
living and thought,
grassroots social cooperation,
and meaningful, self-sufficiency oriented lifestyles
outside the grid of a media/consumer-created culture.
GOVARDHAN GARDENS




FEATURES
GOVARDHAN GARDENS




SERVICES
Tropical Seeds for Exchange and Sale

Customized Fruit Orchard Designs

Bamboo Nursery and Resources

Tropical Fruit Tree Nursery
Goat Sales and Services

Land Search Assistance
(This mailing list is for those interested in workshops about
bamboo, eco-farming, goats, sustainability or tropical fruits).
NEW PUBLICATION 06/2022

This book is an ethnobotanical compendium, covering the basic nutritional and medicinal benefits of 350 tropical fruit species.
313 pages, softbound.

PDF file: $15
(advantages: can be used with search engine; no shipping cost).

Printed copy: $35
(advantages: easy to browse through;
will survive demise of technology).
Shipping cost within U.S.:
media mail $6, priority mail: $13

Orders: OroVerdeAlive@proton.me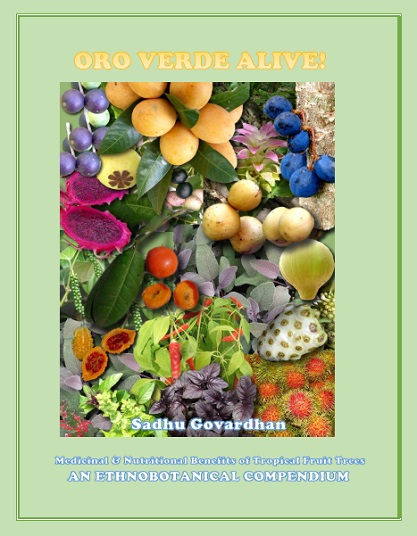 The first book, "ORO VERDE - Securing the Future of our Food" is ONLY AVAILABLE IN DIGITAL FORMAT: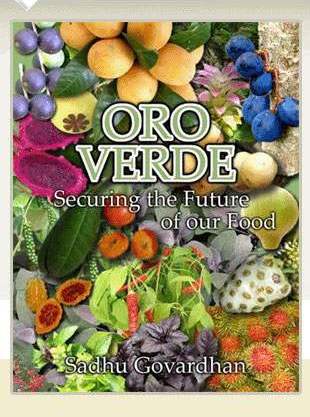 DIGITAL VERSION
"ORO VERDE
- Securing the Future of our Food"
Price: $10
Contact the author for order:
Govardhan_Gardens@yahoo.com
ORO VERDE - Securing the Future of our Food:
A revolutionary book for small scale farmers in the tropics: 300 pages, covering over 100 tropical crops and agricultural philosophy.
Oro Verde is a powerful manifesto with viable solutions for tropical gardeners, farmers, activists and conscious people in general.
view ordering info

Sadhu Govardhan is an independent thinker, eco-organic farmer, tropical rare fruit connoisseur and agricultural consultant. Extensive journeys for over twenty years have allowed him to study indigenous cultures and different life styles throughout the world.
His first publications on philosophical and spiritual topics were published in Europe and translated into several languages.
He now lives in Puerto Rico and has dedicated himself to researching and growing tropical food crops and promoting alternative farming methods.
As a consultant in tropical sustainable agriculture, he has inspired countless projects in the Caribbean and beyond. He specializes in land evaluations and highly diversified eco designs.
Sadhu is currently the Director of Wanakaset Panama, a reforestation project and bird sanctuary in Boquete/Panama.

I would like to extend a heartfelt thanks to everyone who has helped out this project over the years. Even if I can't acknowledge all of you individually since so many people have supported Govardhan Gardens in so many ways, I certainly remember every one of you.

If you would like to find out more about the tree sponsoring program and other opportunities to help the project, click here
view sponsors and friends
This revamped page is Govardhan Garden's new "eco library". You can find videos, links, articles and other media about relevant environmental topics.

Please contact me if you know of any additional good links that you think should be a part of this library. Thank you.
Tropical Fruit Nursery Photos by Sadhu Govardhan is licensed under a Creative Commons Attribution-Noncommercial-No Derivative Works 3.0 United States License.
Permissions beyond the scope of this license may be available at http://organicfarm.net/contact.htm.